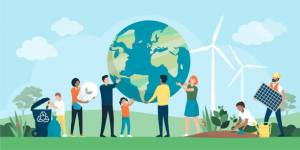 Sustainability Working group – Terms of reference
 EEB III is committed to incorporating sustainability into its core educational activities.  EEB III has over the years implemented a number of initiatives related to sustainability and the environment.
The management of EEB III will now establish a Sustainability Working Group.
The aim of this working group is to propose a 3-year plan to the school management.  The general objectives are to promote and coordinate the development and implementation of sustainability initiatives across all areas of the school.
The terms of reference for this working group is:
To identity and list all initiatives related to sustainability that have been implemented or are being implemented by the school.
Review these initiatives and make recommendations to the management about their development.
Make recommendations to the EEB III management to the further development of sustainability-related initiatives, projects, policies and strategies.
Recommendations should be doable and presented in a 3-year framework.
The recommendations put forward should be presented with an estimated budget.
Composition of Working Group
Chairperson:
Mme Micheline Sciberras, EEB III Director or delegate
Members:
2 representatives of teaching staff (1 from N/P and 1 from Secondary)

2 representatives of students

2 representatives of the parents' association

M. Espana Fox, Security and Safety Officer

M. Didier Barbiaux, Senior Technical Officer
Time Frame
 The WG will have a kick off meeting in February 2021.  A report is to be presented by June 2021 for actions to start being implemented in school year 2021-2022.