Welcome and thank you for visiting the website of the nursery and primary cycle of the European School – Brussels III, Ixelles.
We hope that this virtual space will provide you with useful information and give you an overview of our philosophy, projects and procedures through a pleasant and easy navigation.
We want all children to acquire the necessary skills, knowledge, know-how and attitudes to prepare them to be the citizens of tomorrow.
Our team strives to maintain high academic standards, but also a warm, caring and pleasant atmosphere in the classrooms and playgrounds.
We hope that your search on this site will answer your questions and we remain at your disposal for further information.
Please do not hesitate to contact us.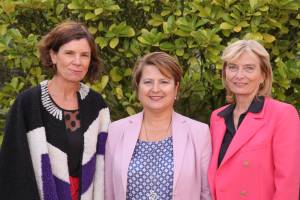 Delphine MOURGUES (France) – Assistant Deputy Director
Micheline SCIBERRAS (Malta)  – Director
Hanne SCHMIDT (Denmark) – Deputy Director