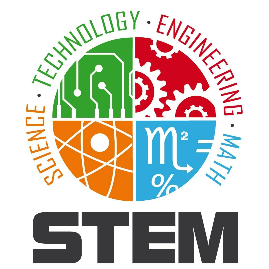 WHAT IS STEM ABOUT?

By definition: Broad set of disciplines embracing Science, Technology, Engineering, and Math
Practical implementation: A number of project, each project conducted by several students.
HOW DID WE CHOOSE THE PROJECTS ?



Regional, national or EU level competitions for schools.

Building on expertise and "traditions" of our school (e.g. CanSat, STEM Olympiad ,Moon camp,.. )

Preferring activities naturally more exciting for pupils (e.g. robots, visual programming, space-related projects)
STEM : IMPLEMENTATION AT  EEBIII
It is an optional activity that students can voluntarily follow in periods without classes (P6-7)

Managed by coordinator with some experience from previous years:  Rayja Inapakutikala (Mathematics, ICT teacher)
KICK-OFF OF STEM ACTIVITIES



Advertising to a wide audience, including S1-S7 pupils along with their parents

Presentation of a selection of projects

During few weeks, students have clustered on specific projects following their tastes, passions and knowledge

All communications and supporting materials have been posted on a specific Teams channel, with subchannels for each project.
A "STUDENT-DRIVEN" ACTIVITY



In competitions among projects, no pre-determined idea has been imposed by coordinators.  Students themselves are supposed to be the main creators.
Engagement in competitions typically follows the path:

Coordinators inform about guidelines and rules for the competitions

Students are free to develop their own idea

Coordinators give suggestions about the idea feasibility, provide expertise, indicate appropriate supporting material and monitor deadlines
Students have full liability of:
Practical implementation of an idea

Contacting experts, purchasing material, sending reports

Sharing roles among team members, coordinate the team, meet deadlines ➢ Students are the final responsible of the failure or the success of a project.
---
STEM PROJECTS

Moon Camp (S1,S2 and S3):
Optimize a 3D-design for equipment of a futuristic Moon camp (Lunar Lander, Lunar Orbital Space Station, Lunar Rover, Moon Base, Rocket, Space Suit ) using a professional program.
Each team's mission is to 3D design only one component of a Moon Camp, using Tinkercad.
Teams can choose to design the:
Lunar Lander

Lunar Orbital Space Station

Lunar Rover

Moon Base

Rocket

Space Suit
Coding and robots (S1,S2,S3)
Introduction to coding logic (based on text or on blocks), using visual tools.  Application to robotic vehicles and arms performing user-defined operations.
The micro:bit is such a tangible way to develop coding. It's real, it's exciting and it gives students confidence to try new things and experiment. You tell computers like the micro:bit what to do by giving them instructions. Sets of instructions for computers are called programs. Programs are written in code, a language that both you and the computer can understand.
You can program your micro:bit in the online MakeCode block or Python text editors. Our Let's code page helps you choose the one that's right for you.
Arduino Uno can detect the surroundings from the input. Here the input is a variety of sensors and these can affect its surroundings through controlling motors, lights, other actuators, etc. The Arduino Uno is an open-source microcontroller board based on the Microchip ATmega328P microcontroller and developed by Arduino.cc.
The board is equipped with sets of digital and analog input/output (I/O) pins that may be interfaced to various expansion boards (shields) and other circuits.
Students will learn how to code and connect the circuit to the requirement.
A CANSAT is a device incorporated in the volume and shape of a 33cl can. The challenge for students is to integrate the main subsystems of the experiment within a restricted volume. The CANSAT is then launched at an altitude of 1000 meters thanks to a rocket and his mission begins: to carry out a scientific experiment and land safely.
Students will be responsible for all aspects of the scientific project:
They define the purpose of their mission

They design the CanSat and build the components

They take care of the tests and the preparation for the launch

They then analyse the collected data